Robert Schütze
European
Union Law
Welcome to the companion website of "European Union Law" (and "European Constitutional Law")!
The European Union has existed for over half a century. Having started as the 'Europe of the Six' in a very specific industrial sector, the Union today has 28 Member States and acts within almost all areas of social life. European law has come to influence almost all fields of national law, including administrative law, contract law, constitutional law, criminal law and even tort law; and it has also played a major role in the development of competition law, environmental law and employment law. But no textbook is able to cover and analyse all of these areas. Nor can any modern EU Law textbook truly provide all the necessary "cases and materials" in between its two covers!
This website aims to overcome this shortcoming by offering all the cases – in their Lisbonized version – as well as providing direct access to the further reading suggestions mentioned in my two textbooks. Extra teaching material and some revision suggestions are also included so as to complete the learning package.
look inside
An Introduction to European Law 2nd Edition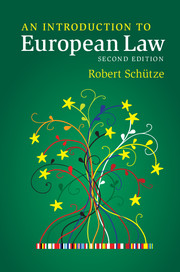 Written with exceptional clarity, simplicity and precision, this short textbook provides a classic introduction to European law. Using a clear structural framework, it guides students through the subject's core elements and key issues, from the creation and enforcement of European law to the workings of the internal market. Chapters are enriched with figures and tables to clarify difficult topics and illustrate relationships and processes, ensuring that students understand even the most complex of concepts. The second edition has been updated throughout and includes an entirely new chapter on the internal market for goods. Two new practical appendices offer suggestions for further reading and guide readers through the process of finding and reading EU Court judgments. A companion website features full 'Lisbonised' versions of the cases cited in the text, links to EU legislation, downloadable figures and textbook updates.
look inside